my first 30 days
BY KAREN REYES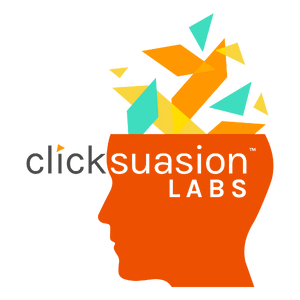 A career change can be an incredibly challenging and stressful experience for anyone. However, when faced with this situation, I hoped that when I had the opportunity to move into a different field, it would become something to which I belong.
Working for Clicksuasion has been an eye-opening, exciting experience in which I am thankful to participate.
MY BACKGROUND
After graduating from college with a degree in education and a minor in psychology, I anticipated having only one path to follow in my professional career. But, as I'm sure many know, change comes in many ways. So, after working in the educational field, I knew I wanted to experience a difference.
Leaving education was a difficult decision, and the unknown of pursuing a completely different career left me overwhelmed. However, Clicksuasion welcomed my abilities and experience with open arms, viewing my background as a positive asset in marketing. Clicksuasion made my transition into marketing easier through this welcoming and enjoyable shift.
FIRST IMPRESSIONS
The first-day jitters are universal. Whether beginning school, work, or just a new hobby, being the new person on the block can be challenging when you feel you have no experience to share with the team. However, I am incredibly delighted that the company culture at Clicksuasion has put my imposter syndrome feelings to rest.
My team and superiors support my work and understand my need to learn continuously and consistently. Nurturing me throughout this development and ensuring that while I am the new person, I am part of a team that has done wonders for me and my ease of work.
Being secure in that I can ask questions and seek advice without ridicule or criticism has let me flourish in this fast-paced but fun environment. Providing me with any information I need, I have the tools to ensure I can craft the best projects I can.
Being the new kid on the block is inevitable when transitioning into new stages of your life. However, I have realized that the experience does not have to feel isolating. Fending for yourself until you've gathered the understanding is not the only way to join a new career. Clicksuasion has done everything in its power to secure the knowledge in me that I am part of a team and have support whenever needed.
MY FUTURE
With this newfound knowledge and experience in marketing, my future looks bright: career and experience-wise. Marketing is a multi-faceted occupation, and I acknowledge that I have merely scratched the surface of my full potential within this career. However, the excitement I feel at being able to begin my professional experience in marketing with Clicksuasion is immeasurable. Marketing is more than advertisements and the 'sell, sell, sell' mentality. I've come to know more of this intricate business in these short 30 days than I have ever had on the outside looking in.
In the future, I plan to continue my career in marketing and, mainly, marketing within Clicksuasion. I have found my niche and want to nurture this new side of my professional experience as much as possible. In addition, I want to encourage my unique background and become an asset to Clicksuasion by stretching my bilingual muscles within the Clicksuasion team and with client interactions. A large market of Spanish-speaking business leaders would like a positive marketing experience. I want to become their voice and help them achieve their business dreams.
I look forward to a long tenure within Clicksuasion, where learning, marketing, and teamwork are uplifted and valued.